Byron Shire
Byron Shire is famous for its spectacular beaches, forested hinterland, stylish coastal towns and hidden rural villages. It's also home to a creative community that draws artists, musicians and film-makers from across the world.
The iconic Byron lighthouse is perched on Cape Byron, Australia's most easterly point and is surrounded by the Cape Byron Marine Park which extends from Brunswick Heads in the north to Lennox Head in the south. Whether you're looking for the perfect wave or want to explore nearby World-Heritage listed national parks and Minyon Falls – the Byron Shire has something for you.
Kingscliff
Located in The Tweed, Kingscliff is part of one of Australia's most picturesque coastlines. Kingscliff is nestled between the Tweed River (the mouth lies further north at Tweed Heads) and a run of attractive beaches which stretch from Cabarita in the south to Fingal Head in the north. It's ideal for beautiful beaches, whale watching and fun water sports like fishing and surfing. You can also join a snorkelling tour and swim with green sea turtles.
Kingscliff Beach is a stunning stretch of sand just beside town – it curves all the way from the breakwater at Cudgen Headland in the south (where the Cudgen Creek flows into the ocean) to Dreamtime Beach at Fingal Head, in the north.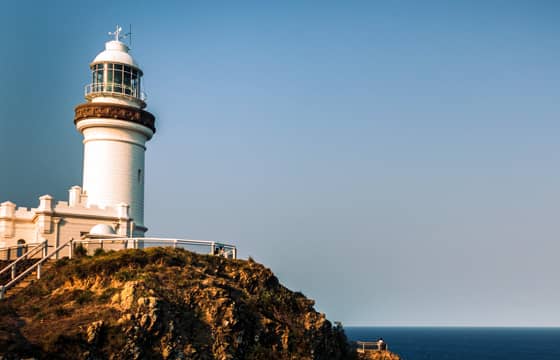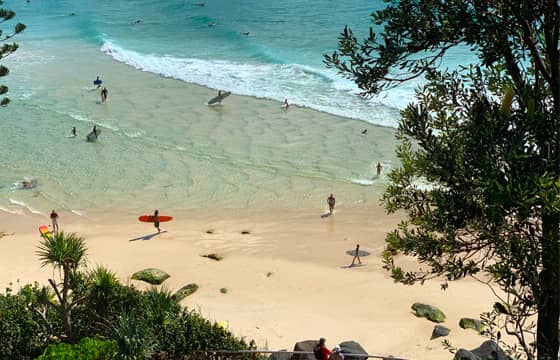 About Byron Shire Council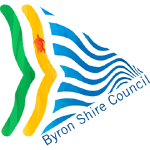 Byron Shire is located on the far north coast of NSW. The shire is 556 km2 in size and the region is famous for its rural beauty and beaches. Byron Shire Council represents a creative and diverse community with a strong commitment to sustainable living.
The Byron Shire might be a regional local government area with a population of 34,500 and a rate base of 15, 800 properties but it punches well above its weight when it comes to tourism, attracting more than 2.2 million visitors a year. Approximately one million of these visitors are day trippers.
The Byron Shire celebrates creativity, music, arts and culture and its many festivals and events cater for a wide range of audiences and taste.
Food lovers can indulge themselves at local restaurants and eateries, or the farmers' markets, and there's always a weekend market that people can explore.
Councillors and staff work hard to reflect the needs and desires of the Shire's residents who have strong connections to community, the environment and sustainability and this is reflected in a diverse range of projects and programs.
Further information about Byron Shire Council can be found at www.byron.nsw.gov.au
About Tweed Shire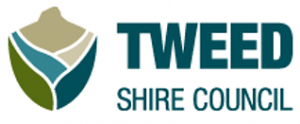 Tweed Shire covers 1303 square kilometres and adjoins the NSW shires of Byron, Lismore and Kyogle, with the NSW/Queensland border to its north where it divides the twin towns of Tweed Heads and Coolangatta. The Tweed's population is approximately 90,000. The population is estimated to reach more than 128,000 by 2031. Our diverse population is geographically spread between urban communities, coastal and rural towns and more than fifteen villages.
The stunning centrepiece of the Tweed, where the sun first hits the Australian continent, is Wollumbin / Mount Warning which is surrounded by national parks forming the caldera of the fertile Tweed Valley. With 37 kms of natural coastline, wetlands and forests, lush pastoral and farm land, the entire basin of the Tweed River, and mountainous regions containing three World Heritage listed national parks, Tweed boasts an internationally significant environment with the highest biodiversity in NSW, and in the top three in Australia. It is located within one of the largest natural erosion calderas in the world. The Tweed has an average rainfall of approximately 1600 millimetres per year and offers a very moderate climate all year round, with mild winters and many sunny summer days.
Captain James Cook identified and named two of Tweed Shire's most prominent features, Wollumbin / Mount Warning and Point Danger (Aboriginal area of Pooningbah), in 1770. Prior to European settlement, the area was blanketed in sub-tropical forest and was home to the Bundjalung people. Many of the Shire's towns and villages derive their names from the language of those Aborigines. The area was settled by timber-getters around 1844; the first school opened in 1871; and by the 1890s, the river port of Tumbulgum was the centre of population. The focus moved to Murwillumbah when the first Local Government municipality was declared in 1902. The Tweed Shire, which amalgamated the Municipality of Murwillumbah and Shire of Tweed, was declared on 1 January 1947.
Further information on Tweed Shire Council can be found at www.tweed.nsw.gov.au
Venue
Mantra on Salt Beach Kingscliff
Gunnamatta Avenue
Kingscliff, NSW 2487
www.mantraonsaltbeach.com.au
Perfectly located in the Tweed River Valley on New South Wales North Coast and centrally located within Salt Village. Superb waterfront position, Mantra on Salt offers hotel and fully self-contained one and two bedroom rooms and suites each with a private balcony.
Mantra on Salt Beach is on the doorstep of the must-see destination of beautiful Byron Bay, which is a short 30 minute drive from your accommodation. Onsite you'll enjoy a gorgeous lagoon style pool perfect for cooling off in on those hot summer days, or have a hit on our tennis courts.
For further information regarding Mantra on Salt Beach please visit: www.mantraonsaltbeach.com.au
Destination North Coast
The true nature of Business Events…

The North Coast of NSW is a wonderful region for Business Events as it offers an abundance of nature-based activities and environs that delegates can benefit from. Corporates are particularly enchanted by the regions stunning natural landscapes that provide easily accessible nature-based activities. When combined with our high-quality venues it delivers the ideal destination to connect with your colleagues or for a "digital detox" for corporate teams. Our destination is easily accessible via Pacific Highway or through our gateway airports located in Port Macquarie, Coffs Harbour and Ballina/Byron and nearby neighbouring cities of the Gold Coast and Newcastle. Our regional centres of Taree, Grafton, Lismore and Lord Howe Island are also service by airports. Destination North Coast extends from the MidCoast in the south to the Tweed in the north, with Lord Howe Island in the east and the Great Dividing Range approximating the western border. The region is supported by 14 local governments and leading industry operators keen to provide an exceptional Business Events experience for you and your delegates.
This conference is proudly supported by Destination North Coast and the Australian Government as part of the Recovery for Regional Tourism Fund.